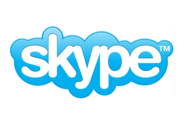 With reports emerging that Microsoft intends to ship its delayed Skype client for Windows Phone "soon," Its been confirmed that the software giant's internal documentation has tagged the first half of 2012 for the release. This is the same documentation that was being used for the basis for two previous exclusive reports, Microsoft and Nokia's Plans for Marketing Windows Phone in 2012 and Microsoft's LTE Plans for Windows Phone.
Both reports have since been confirmed by Microsoft.
With regards to Skype, a video interview with Skype's products vice president, Rick Osterloh, has gotten a lot of traction even though Osterloh says nothing new. The interview is about Skype, generally, and includes the kind of momentum information that Microsoft is quite fond of. (Skype is now part of Microsoft if you've not been paying attention.)
Here's what he said about Windows Phone.
"We're also working on a Windows Phone product that will be coming out soon," he said.
Yes, that's the whole quote. Of course, Microsoft had previously promised to deliver Skype for Windows Phone before the end of 2011, so it seems like semi-new information, given that 2011 ended a few weeks earlier.
According to the documentation , Microsoft has planned to deliver the Windows Phone version of Skype in the first half of 2012, not by the end of 2011, for some time. Not sure why the client has been delayed, but Microsoft has been planning from a marketing perspective for some months now.
Skype, as you may realize, is just part of a broader range of Microsoft products whose integration with Windows Phone forms a key part of the software giant's overall strategy. These products include Xbox, Internet Explorer, Office, Windows, Hotmail, Bing, and, soon, Skype.
Promotion of Windows Phone to Skype's enormous user base will tied to the app's availability, the documentation notes, in the first half of calendar year 2012.
Looked at another way, the addition to Skype to the Windows Phone apps market will help Microsoft "bridge the gap in top apps" between Windows Phone and the competition, and the overall goal is to ensure that all "top 25 apps" (from both iOS and Android) will be available on Windows Phone before the end of the first half of 2012. And Microsoft is also investing tens of millions of dollars over three years to promote competitors of key apps that will never, for whatever reason, be ported to Windows Phone. Pandora is cited as an example, alarmingly.
Source: Winsupersite
Pin It