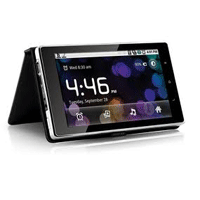 According to recent data from CyberMedia Research,  Indian consumers bought over 5 lakh tablets during the April - June quarter, a 673% increase since last year. The overall tablet market has seen a quarterly growth of over 50%, primarily due to an increase in the number of new vendors and launch of low-cost devices by existing firms.
According to CyberMedia's Tablet Market Review for 2Q 2012, Micromax leads India's tablet market with an 18.4% market share, followed by Samsung, which has a 13.3% share. Apple, had a 12.3% market share during the quarter. The report found that, the tablet market in India has become increasingly competitive due to entry of new vendors with entry level offerings. Around 90 vendors are expected to have launched tablets till the end of second quarter.
Faisal Kawoosa, Lead Analyst, CMR Telecoms Practice said," During 2Q 2012, 47.4% of tablet sales were from new entrants in the market with a strong focus on addressing application areas in the Education and Entertainment segments. This trend demonstrates clearly that vendors are positioning their devices at India's youth." He further added,"The share of devices based on other operating systems like Windows, iOS and QNX are expected to rise in future in view of the recent announcement of the Microsoft Windows Surface Tablet, the global launch of the Apple iPad 3 and reduction in BlackBerry Playbook prices."
During the June quarter, the average price of tablets sold in India dropped to Rs 13,000 as against Rs 26,000 in the previous quarter.
Pin It