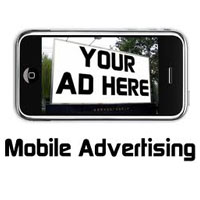 According to a recent report by Gartner, worldwide mobile advertising revenues are expected to reach $11.4 billion in 2013, up from $9.6 billion in 2012. Worldwide revenue is expected to grow to $24.5 billion in 2016 with mobile advertising revenue creating new opportunities for app developers, ad networks, mobile platform providers, specialty agencies and even communications service providers in certain regions.
As per the report, smartphones and media tablets extend the addressable market for mobile advertising in more and more geographies as an increasing population of users spends an increasing share of its time with these devices. Andrew Frank, research vice president at Gartner said,"This market will therefore become easier to segment and target, driving the growth of mobile advertising spend for brands and advertisers. Mobile advertising should be integrated into advertisers' overall marketing campaigns in order to connect with their audience in very specific, actionable ways through their smartphones and/or tablets."
The report revealed that geographical regions will also evolve at a different pace and in different directions. It forcasted that the high-growth economies of China and India are expected to contribute increasingly to mobile advertising growth, as their expanding middle classes present attractive markets for global and local brands.
According to the report, different types of mobile advertising are evolving at a different pace and in different directions. Mobile search — including paid positioning on maps and various forms of augmented reality, all of which can be informed by location — will contribute to drive mobile ad spending across the forecast period, although it will diminish in strength as the period progresses. According to Gartner, mobile display ad spending will grow and take over from mobile search. It will initially remain divided between in-app and mobile Web (in-browser) placements — reflecting consumer usage — although after several years of in-app dominance, Web display spending will take over in-app display from 2015.
The rapidly growing share of time that consumers spend on mobile devices is generating ad inventory at a pace considerably faster than most advertisers can shift their spending to the medium. This creates a surplus condition that is driving down unit ad prices which in turn has led to a situation in which a significant portion of mobile ad inventory is taken up by app developers paying for ads to promote their apps and get them more downloads, a category known as "paid discovery."
The report also reveals that while the revenue basis of paid-for app store downloads provides some economic justification for this category, for many developers the outlay for ads is close to their maximum ad income or even exceeds it.