Google today finally unveiled its plans for Chrome OS-powered laptops, which the company is calling Chromebooks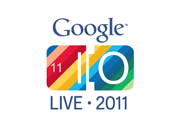 .
Sundar Pichai, Google's VP of product management for the Chrome web browser and Chrome OS, gave a quick overview of what to expect from Chromebooks yesterday at the company's I/O developer conference.
The advantages of Chromebooks over traditional laptops include instant on capabilities; always being connected to the web with built-in mobile broadband; an all day long battery; the ability to access files from anywhere; and built-in security capabilities.
Most importantly, Chromebooks will get faster over time since they will automatically download system and app updates. That flies in the face of what consumers normally expect from their computers, which typically slow down thanks to malware, program bloat and the like.
Since many have been asking about Chrome OS's offline capabilities, Pichai confirmed that the company is developing offline versions Gmail, Google Calendar and Docs. He also reiterated that there are plenty of apps on the Chrome Web Store that work offline.
Pichai went on to unveil two new Chrome OS devices from Samsung and Acer. The Samsung Chromebook features a 12.1-inch display, 8-second boot times and an 8 hour battery, while the Acer model offers a smaller 11.6-inch screen and 6.5 hours of battery life.
Pin It