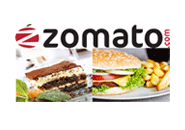 Zomato is an online food guide, restaurant directory and menu-pages website for anyone who is looking to either dine out or order food. Currently operational in Delhi NCR, Mumbai, Kolkata, Pune and Bangalore, Zomato lists menus, ratings and contact details for all restaurants listed and reviews (both editor and user) & discounts for a large percentage of these. Latest addition to Zomato has been the launch of Chennai section of the website with ~750 menus and focus on user reviews for restaurants which showcases the collective opinion of a large number of foodies rather than that of a single person (the editor).
Zomato was started in July 2008 by Deepinder Goyal and Pankaj Chaddah, both alumnus of IIT Delhi and Bain, as a part time hobby with only 500 restaurant listings in Delhi NCR. The intention was to provide the people of Delhi NCR with as much information as possible about the food that they were about to order. So the site started with complete menus and contact information for the most popular take-out/delivery places in town. As the website got popular, the team added more content and now have 2200 restaurants in Delhi NCR listed on the website ranging from the swankiest restaurant to the desiest dhabas in town.
Zomato is available on Iphone/Ipod Touch/IPad, Android Market & Blackberry, an app that includes almost all major functionalities of the website (Zomato.com) and that recommends you the best restaurants around your current location.
It's an app that enables users to call a restaurant from within the application without saving it's contact number somewhere. So it's true that not only the world but also good food is coming closer to you.
I have used the Iphone app a number of times to find restaurants in Gurgaon and Delhi and so far the experience has been very good. A must have app for all you Foodie lovers  out there in India.
Pin It