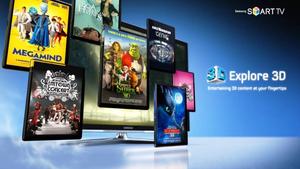 Samsung recently announced that its new 3D Video-on-Demand service is available for free via its SMART TV platform, for users in the UAE. The service will allow users to stream free 3D content through a specially designed SMART TV app, called Explore 3D. At this point of time there are 41 3D videos available, by the end of 2011 it is expected to be 70.
To access Samsung's Video-on-Demand service, consumers with 3D SMART TVs will simply need to download the Explore 3D App from Samsung Apps, the first and biggest app store available for TVs.
Samsung SMART TV offers an easy–to-use Smart Hub that opens up content from Apps, the internet and other access points to the TV. Using the 'Search All' function, consumers can search for content on not just the television, but across the internet and on any connected storage, PC or mobile device within the home network.
Users can also chat about the latest must-watch show through Facebook, Twitter, and Google Talk. The 'Social TV' function will allow them to simultaneously watch shows on split screen whilst chatting with friends. Additionally, Samsung's SMART TVs allow viewers to easily browse the internet while watching TV on a service that is optimized for TV.
Pin It