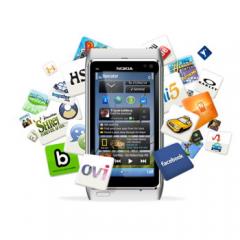 While Nokia has been struggling to do battle against the likes of Apple and Android devices in developed markets, it's Symbian OS has continued a stronghold over emerging markets.
The Finnish manufacturer has released a number of stats and trends. One of which shows that its Nokia Store is now receiving 11 million app and content downloads per day.
This has enabled 177 developers to bag one million downloads apiece as the top markets in 2011 were India, China, Russia, Brazil and Turkey.
India itself favoured games and downloaded more content than the rest of the top five combined, which opted for general apps.
Of the 154 supported Nokia devices, the top five for downloads were the N8-00, the 5800 XPRESSMUSIC, the 5233, the 5230 and the C3-00.
The top five apps globally were dominated by ones that enable communications with Facebook Chat, eBuddy Messenger Free, WhatsApp Messenger, High Speed 3D Free, Skype. This, proves the continued popularity of social networks and instant messaging.
Presumably, Nokia will be hoping developers sit up and take note of the figures, which show that Symbian hasn't been as deserted as many may have thought.
All the same, the firm will be hoping to achieve success with the Windows Phone OS that will power new devices such as the Lumia series.
Source : Mobile Entertainment BIZ
Pin It