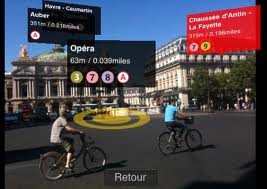 According to a thought-provoking study published Wednesday by Ypulse, "even tech-savvy millennials are baffled" by augmented reality technology, particularly when its infused in mobile apps on leading smartphones.
"Augmented reality has become the futuristic media of the moment, but many consumers," Ypulse says, but even mobile's core audience – young, hip, tech-wise adults – are "having a hard time figuring it out."
Based on the findings of Ypulse's research, only 11% of high schoolers and collegians have ever used an augmented reality app.
Among students who have used AR apps
 34% think they're easy and useful;
26% think they're easy but not useful;
18% think they're useful but not easy; and
9% think AR apps are neither useful nor easy to use.
"AR apps have to be interesting enough to get users to download them, and they also need to be engaging enough to get users to come back to the apps again and again," Ypulse says. "But mostly, they have to work right the first time."
Via: Mobile Marketing Watch
Pin It