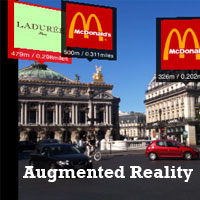 According to Juniper Research's latest report, "Mobile Augmented Reality", such applications are set to take off in a big way. The research firm estimates that augmented reality apps could reach 2.5 billion downloads in the next five years.
The key to reaching this momentum is consumer awareness. While those consumers who are more familiar with tech are already familiar with augmented reality and what can be achieved with it, many consumers aren't so clued up.
"Without an increase in consumer awareness, it will be difficult for the mobile augmented reality industry to reach critical mass and without critical mass, many AR apps will not be able to find the size of audience they need to break even and advertisers may find that they are unable to reach their target demographic," says Juniper Research in its report.
Perhaps new 'devices', such as Google's 'Project Glass' AR glasses, are what's needed to catapult augmented reality into more mainstream use. The AR glasses have certainly received some great reviews following Diane von Furstenberg's use of them during the recent New York Fashion Week. Out of that that event Google has released the first 100% Glass-shot video.
Pin It