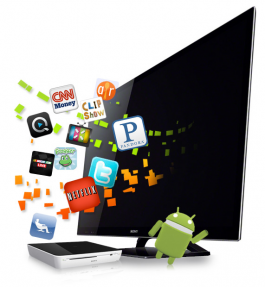 Products launched by TV manufacturers in 2011 show how critical internet services are to the future of TV. In 2011, more than 25% of all flat panel TVs shipped are expected to have some form of internet connectivity. According to the DisplaySearch Q2'11 Quarterly TV Design and Features Report, this number is forecast to grow to 138M units in 2015, accounting for 47% of all flat panel TVs shipped.
"The adoption of connected TV is not just taking place in developed regions," said Paul Gray, DisplaySearch Director of TV Electronics Research. "Emerging markets often have good broadband services, and there is a thirst from consumers to get the best content available."
According to DisplaySearch research, by the end of 2015, over 500M connected TVs will have shipped.
DVB-T2 Digital Broadcasting in India 2015 Enables New Market Opportunities for Smart TVs
The recent decision by the Indian government to switch off analog terrestrial signals and move to DVB-T2 digital broadcast in 2015 paves the way for further innovation and brings forward the possibility of a major new market for connected TVs.
At the same time, trends like WiFi Direct enable the TV to partner more readily with handheld devices in the home, such as smart phones and tablets. DisplaySearch forecasts that more than 98M TV sets with 802.11 wireless networking built-in will ship in 2015. "WiFi technologies are the foundation of smart TVs," added Gray. "We expect that in 2015, 35% of 46" or larger TVs in North America will be smart TVs, defined as having the following capabilities: able to retrieve content from the internet without the restrictions of a portal; intelligent search and recommendations; upgradeable by its owner; and able to network seamlessly with other devices in the home."
Energy Regulations and Power Consumption Drive LED-Backlit TVs
With energy regulations growing and power consumption on the rise, LED-backlit TVs have a clear advantage. There is a strong case for consumers to choose LED-backlit sets when replacing their TV, given the energy savings. The payback time for an entry-level LED-backlit TV is under four years in California, and under two years in Europe.
Gray added, "The finding is clear, and it is surprising that TV set makers do not market this advantage. Consumers are attuned to fuel consumption in cars, and our Global TV Replacement Study showed that they are equally mindful of electricity usage when choosing a TV."
The DisplaySearch Quarterly TV Design and Features Report is a quarterly update of the issues and rapid shifts in feature development in TV sets. The 250+ page report examines and forecasts video processor and signal processing IC market development including 120/100 and 200/240 Hz frame rates, as well as market shares for major IC vendors. In addition, the report also features forecasting for MPEG-4 decoding and the digital broadcast environment around the world, including a forecast for DVB-T2; TV connectivity, such as wired and wireless networked TVs; LED backlighting; 3D-capability and implementation; remote control and chassis design; and power consumption.
Pin It