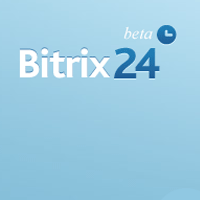 Small businesses are already using the cloud vigorously.  Free services with no installation required help immensely with chat, file storage, and even CRM are very popular because they give a small business freer access to its most important asset: time. In fact, a 'cloud office' is an entirely feasible possibility by constructing a bouquet of cloud services.
Bitrix24, on the other hand, seems to think that you can not only have it all, but in one place. The free version of the product claims to have 30 tools for business. That may be technically true, but it might be more useful to consider the services which Bitrix24 provides, and use less technical terms.
Instant Content Sharing is possible in Bitrix24 via the "Send Message" field in the Activity Stream. Posts can be made available to any set of colleagues via a click-through list of groups and users. Files attached in messages can be stored in the message itself or in any document library, whether public or private, with access to the document given to anyone listed as a recipient.

Photos can similarly be shared, and even videos can be placed and played inside the activity stream.
Other ways to communicate rapidly include the instant messenger, visible in the lower right-hand corner, which also provides notifications of updates pertaining to the user.  Most of the product's functionality, including the Activity Stream, is available in the mobile version:

Project Management:You can get your team on the same page, literally. Here's what that (web) page looks like:

This is the 'front page' of a project group, where there is an input field for a post to the group, and the activity stream where all posts and updates are listed. Project management features include tasks and subtasks with a Gantt chart, time spent,as well as its own file storage, calendar, photo gallery, and wiki.
Document sharing, which is in great demand among small businesses, is very robust in Bitrix24. There are document libraries for each group, user and a company-wide document library.  Each document has its own detail page and can have its own unique access permissions, as can folders.

Microsoft Office documents can be edited locally without download, historical versions are automatically kept, a handy filter with presets for each library, and even a document approval workflow option, though that wasn't easy to find.
CRMin Bitrix24 is a basic CRM which is adequate to the needs of many small companies. The plusses include that CRM items can be located from the global search box and that custom fields can be added to leads, contacts, companies, and deals. Emailing templates seem a bit limited, though emails can be sent straight from the table using the 'actions' button.

The access permission system is based on flexible roles, so a new employee who belongs to the Sales and Marketing workgroup will automatically inherit that group's access to the CRM.
With Bitrix24, a small company gets several different services wrapped together into a thoughtful interface which is heavily enabled in social functions, with liking and commenting throughout the product. There are many things to click and explore, more than we had time to do, leaving us with the conclusion that Bitrix24 is a very ambitious product that mostly delivers on its promise to provide a virtual office with no fuss that enables efficient collaboration and communications for daily operations.
Pin It