FirstPost.com has launched a custom app for Android tablet users. The app can be downloaded and installed from the Google Play Store.
The app allows users to navigate through FirstPost's seven day archive and choose any homepage across the week. Users can also access photos,videos archives directly by clicking on the respective tabs on the top left corner.
A user can click on the Archive, and swipe to the left see the homepage through the week. The Archive tab is also where saved articles are present. An option to save the article is present on the right hand of the article. The app also allows users to share an article across social media platforms and via email and FTP. This option is again visible on the right hand side of the article.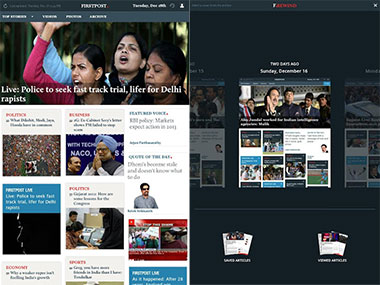 Upon clicking the Top Stories option, users will see a drop-down menu that shows the various sections of the website. Users can click on any one to go to that section. To go back to the home-page, users have to click on the back symbol/button on their tablet.
Besides these, the app also enables users to comment on the various articles.
Pin It