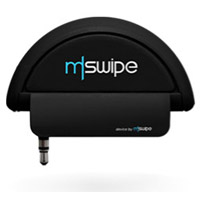 Mobile Point of Sales (PoS) company Mswipe has received its first round of investment from US-based venture capital fund, Matrix Partners. Mswipe enables merchants to accept debit and credit card payments using their mobile phones.
Manish Patel, Founder and Managing Director, Mswipe said,"Mswipe enables small and mid-sized merchants to accept regular credit and debit cards on their mobile phones with the same security and speed as conventional POS terminals at a very affordable price point and competitive card interchange fees. Other than conventional brick and mortar stores, Mswipe's solution enables card acceptance by insurance agents, home delivery services providers etc. Merchants have access to their transaction records on their mobile phones as well as a host of online reports."
MSwipe has applications for Java, Android and iOS devices, and its device plugs into a mobile phones audio jack to enable payments. It claims to have POS terminal deployments with 4000 merchants, in over 200 cities and towns across India.
Mswipe has partnered with Prizm Payment Solutions and Axis Bank to provide merchants a comprehensive card acceptance service. It currently employs 40 people and has a pan-India direct sales agent network to provide after sales support to its customers.
Pin It