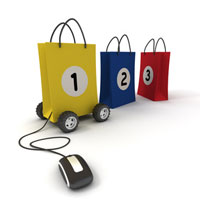 A recent study by Venture Capitalist Accel Partners revealed that 56 per cent of India's online shoppers hail from tier-II cities and towns. Accel Partners stated that most of the lifestyle marketers are using digital platforms to connect with the Middle India consumption story.
Middle India, defined as cities and towns with a population between one to ten lakh, has driven value growth for the fast moving consumer goods industry in recent past, Nielsen data showed. The rise of smaller towns has the potential to change the dynamics for India's fledgling e-commerce industry, in a stunning way, Accel figures suggested.
The study revealed that India's e-commerce market, crossed $800 million with 13 million online shoppers in 2012. The number of unique shoppers excluded the online travel agency (OTA) market, which, if included, takes the count of transacting internet users to little more than 20 million, added the US venture capitalist with shares in leading e-commerce engines like Flipkart, Myntra and Bookmyshow.
According to the study, while women accounted for 21% of the online shoppers, almost doubling their share in the past one year, the overall visitors to e-commerce stores rose 44%. Comscore data showed that the percentage of unique visitors to e-tailing sites grew 362% for apparel , followed by 119% for consumer goods and 98% for home furnishings in the one year period.
India's Internet penetration stood at 8% with 137 million users, of which roughly 20 million were shoppers including OTA. This reflects China's online market back in 2005. The neighbouring dragon has 538 million Internet users and 227 million online shoppers now.
"Almost 59% of the Indian online shoppers are below 25 years. Their numbers are set to raise with 22 million Facebook users in India aged between 18 to 22 years expected to join the workforce within five years," said Prashanth Prakash, partner at Accel Partners, which cut eight ecommerce deals in India until last year.
Pin It