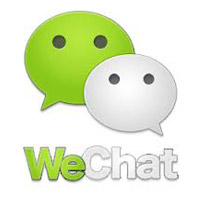 WeChat, the free mobile voice and text messaging application of Tencent, launched in India in July last year across iPhone, Android, Symbian, and Windows platforms will now also be available for BlackBerry users. WeChat has now crossed 300 million registered users globally.
With its launch on BlackBerry platform, millions of BlackBerry users will now also be able to use WeChat. BlackBerry users in India can download the application for FREE from the BlackBerry App World.
WeChat for BlackBerry comes with the app's core features like 'push-to-talk', Instant Messaging, Voice Messaging, Group Chat and Photo Sharing, and new features to be introduced along the way.
Some Key Features are:
Instant Messaging: Send and receive messages in real time across different mobile platforms including iOS, Android, Symbian, Windows Phone and BlackBerry
Voice Messaging: Simple one touch voice message delivery that does not require one to type for effortless communication with friends
Group Chat: Chat with up to 40 friends at the same time
Photo Sharing: Snap photos and share them directly with your friends or select photos from your album to share
Dennis Hau, Head of Product Center, International Business Group, Tencent said "With our new record growth of 300+ million user accounts globally, we are continuing with our mission to be accessible on more platforms. Now, we are delighted to announce the official launch of WeChat's BlackBerry app."
Pin It