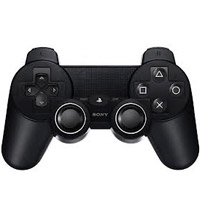 Sony Computer Entertainment Inc.(SCEI) unveiled its next generation computer entertainment system PlayStation 4, at an event in New York. The new console has rich and immersive gameplay with powerful graphics and speed, intelligent personalization, deeply integrated social capabilities, and innovative second-screen features.
According to Sony, PlayStation 4 has been designed from the ground up to ensure that the very best games and the most immersive experiences reach PlayStation gamers. PS4 is centered around a powerful custom chip that contains eight x86-64 cores and a state of the art graphics processor. The Graphics Processing Unit (GPU) has been enhanced in a number of ways, principally to allow for easier use of the GPU for general purpose computing (GPGPU) such as physics simulation. PlayStation 4 is equipped with 8 GB of unified system memory, easing game creation and increasing the richness of content achievable on the platform. GDDR5 is used for this memory, giving the system 176 GB/second of bandwidth and providing a further boost to graphics performance.
PlayStation 4 provides dedicated, "always on" video compression and decompression systems that enables seamless uploading of gameplay. Gamers have to simply hit the "SHARE button" on the controller, scan through the last few minutes of gameplay, tag it and return to the game—the video uploads as the gamer plays. They can share their images and videos to their friends on social networking services such as Facebook. Users can also connect their Facebook account with Sony Entertainment Network account. Through PS4, users ware able to deepen their connections through co-op play or "cross-game chat".
PS4 integrates second screens, including PlayStation Vita (PS Vita), smartphones and tablets, to wrap gamers in their favorite content wherever they are. A new application from SCE called "PlayStation App" will enable iPhone, iPad, and AndroidTM based smartphones and tablets to become second screens.
PS4 radically reduces the lag time between players and their content. PS4 features "suspend mode" which keeps the system in a low power state while preserving the game session.
On the newly designed PS4 menu screen, players can look over game-related information shared by friends, view friends' gameplay with ease, or obtain information of recommended content, including games, TV shows and movies.
In addition to a variety of games available in PlayStation Store, PS4 users will be able to enjoy a variety of services offered by PlayStationNetwork, such as Sony Corporation's Music Unlimited, a cloud-based music subscription service and Video Unlimited, a premium video service, as well as various content distribution services.