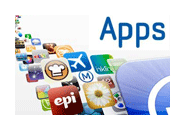 The Android Market and Apple App Store are locked in constant battle for the hearts and minds of mobile device users. Although Apple still holds a lead in the total number of app offerings, its dominance looks to be diminishing. But fear not, Apple fan boys: Team iOS still holds an overwhelming lead in terms of app purchase revenue.
Distimo, an app store analysis firm, compared the 200 highest-grossing apps in each market. According to a study released Tuesday, the firm found that the iOS App Store has generated six times the total revenues of the Android Market. iPhone app sales earned four times the profits of the Android Market, while iPad app sales made twice as much money as Android Market app sales.
Android's poor showing certainly isn't for a lack of total downloads, or for a lack of Android devices running in the wild. Google's Andy Rubin tweeted that the number of Android activations is now up to 700,000 devices per day, and Android is the dominant smartphone OS in most of the U.S.
And while the iOS App Store has seen more than 18 billion app downloads, Android is catching up fast: It recently crossed the 10 billion downloads mark.
Distimo notes that the "freemium" model has become a dominant business strategy for app developers on both major platforms. In this monetization approach, apps are free, but developers build revenue through in-app purchases. About half of the top 200 grossing iOS apps are now "freemium," and that number is even higher — 65 percent — for Android.
Distimo's findings jibe with previous reports and estimates from analysts concerning app revenues for the two respective platforms. Piper Jaffray's Gene Munster estimated that Apple has 85 to 90 percent market share in total app revenues. This year alone, the iOS App Store has provided developers with $3.4 billion in revenues, while the Android Market has delivered only $240 million to its developers.
It's not that Android users don't have money to spare on apps or in-app purchases. A Bloomworlds study found that more than a quarter of Android users make $100k or more a year. So perhaps Android users are just less susceptible to the wiles of in-app advertising and purchases. Or perhaps a greater number of young iOS users — kids and teenagers — blithely tap away to purchase in-app upgrades. A recent Daily Show sketch illustrated this point to hilarious effect.
Distimo vice-president and co-founder Remco van den Elzen attributes the discrepancy simply to the ease of purchasing on each platform.
"Google has been less successful in getting users to pay for apps because Google Checkout is considered to be more cumbersome than iTunes," van den Elzen says. "More importantly, however, Apple has always been very successful in getting everyone to enter their credit card details when activating their devices. This has benefited Apple significantly, as the threshold for purchasing the first application is lower."
The Distimo study also found something surprising about iOS users' downloading habits.
"The number of downloads in the Apple App Store in the US has been declining for nearly the entire year," the report states. "The lowest point coincided with the moment when the anticipation for the new iPhone was at its height in September."
Distimo found this trend was similar for the iPad as well: Downloads went down just before the announcement of a new product (in February, before the iPad 2 was launched), but went back up immediately after (in March). Perhaps the ability to sync and store data to iCloud will change this trend in the future.
Download the latest report from Distimo