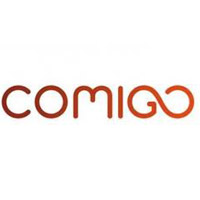 Comigo, an Israel-based company has announced that it will use its presence at CES 2013 to demonstrate its unique social and interactive applications (WatchApps) which allow viewers to engage with the content they watch and interact with their friends.
The WatchApps are offered as part of Comigo's multi-screen Smart TV platform. The viewers can participate in polls, betting or trivia questions, get extended internet-based information related to the content they watch, buy merchandize or other items - all while watching the show with no need to surf the web or search in the application store.
For example, while watching a Sports match, the viewer can enter the Facebook page of the league, get the history of the players, receive real-time results of other games being played at the same time, re-play interesting events that took place during the game, minute-by-minute, make a bet, purchase tickets for the next game and more.
Viewers can purchase specific products related to the viewed content and invite their friends to join this purchase – in return they can get a discount.
Viewers can also use the WatchApps to send virtual multimedia messages to friends while watching a show, such as Birthday Cakes and wishes and throwing a tomato when their friend's team scores.
Comigo offers SDK, enabling developers to build such interactive-applications and back-end tools for the TV Service Providers to manage and correlate the interactive-applications with their EPG.
About Comigo
Comigo is the creator of a feature-rich smart TV platform which combines the TV/Video/Broadcast viewing with the Internet capabilities. Comigo developed an advance Smart TV platform, including middleware for Android based STB, Applications for iOS/Android Smartphones and Tablets, as well as a strong Server side that manages and enhances the solution.
Pin It