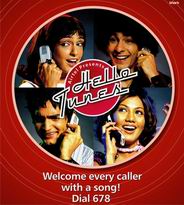 Spice Digital, India's leading mobile VAS provider, has launched Desi Tunes, a new regional Hello Tunes Portal for mobile subscribers of Airtel. This is a unique service that allows subscribers to set their favorite regional song as their Hello Tune and share it on their Facebook.
To avail the service, subscriber will have to dial the tollfree shortcode 5787893 and browse through the regional content, across demographics, to set their preferred song as their Hello Tune. For example, a subscriber calling from Kerala would be able to hear the content across genres in Malayalam language.
The key differentiator of the Desi Tunes service is the social share feature on Facebook – enabling the subscriber to set its regional CRBT by dialing 5787893 and share it on Facebook by pressing a key. A simple authentication process is required to post it successfully to the subscriber's Facebook account.
Speaking about the service, Shehzad Azad, Head - BD & Alliances, Spice Digital said, "Along with the first of its kind feature of facebook posting on HT, Desi Tunes provides access to assorted regional songs across categories and languages. Regional Music has great potential if packaged in the right manner. There is a huge market waiting to connect back to its roots, to enjoy tunes they have grown up listening to. We are certain that with interesting assortment of tracks that capture the true essence of various regions along with ease of use, will provide new impetus to ever-growing consumption of regional music. We look forward to bringing on board more and more regional content during the coming year."
The category and the music selection for every circle have been put across to the subscriber after an extensive research, conducted to understand the subscribers taste and preferences. The service would benefit the end-user tremendously, as it would give him a wide range of songs to select from – to make it his/her Hello Tune. The service comes as per the tariff plan availed by the Airtel subscriber. Some of the available categories are :
- Bhojpuria Garma Garam, Bhojpuria Chaunka, Bhojpuria Bijuria
- Rangeelo Rajasthan Lokgeet, Rajasthanree Bhakti Dhara,
- Kannada Devotional, Kannada Special Songs,
- Gujrati Loksangeet and Devotional
- Punjabi Tadka, Punjabi Vibes,
- Bangla Adhunik and Classics,
- Kamrupia Lokgeet (Assamese)
- Malaylam Devotional,
- Hindi Devotional
Pin It