Yesterday Facebook CEO Mark Zuckerburg introduced a new search feature Graph Search. Currently in its beta stage, the graph Search feature will appear as a bigger search bar at the top of each page once it goes live.
Graph Search will allow users to quickly sift through their social connections for information about people, interests, photos and places. For instance if you want to search for people who live in your city with the same interests like a Tv show, Graph search will show you the relevant results. Every time you check into a restaurant or mall, Facebook's Graph Search could show it to your friends if they too search for the same place.
Unlike web search which gives out the best possible results based on a set of keywords, Graph search looks at phrases that you type and gives you results based on what your friends have shared. For example:"my friends who like surfing" will show your friends who like surfing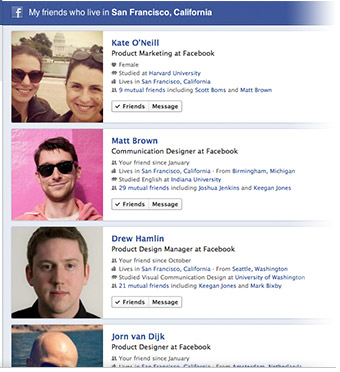 With Graph Search, you can look up anything shared with you on Facebook, and others can find stuff you've shared with them, including content set to Public. That means different people see different results. Only results that you have shared with friends, friends of friends, or the public, will be found by other people. Photos, updates and links that keep at a custom setting of "Me only" won't be displayed in Graph Search.
Pin It