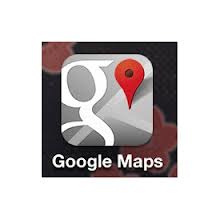 Google has announced the roll-out of Google Maps across the world in the Apple App Store.
Daniel Graf, Director, Google Maps for Mobile, stated: "The Google Maps app shows more map on screen and turns mobile mapping into one intuitive experience. It's a sharper looking, vector-based map that loads quickly and provides smooth tilting and rotating of 2D and 3D views. The search box at the top is a good place to start—perhaps by entering the name of a new and interesting restaurant. An expandable info sheet at the bottom shows the address, opening hours, ratings and reviews, images, directions and other information."
The app includes detailed information for more than 80 million businesses and points of interest. Through Street View, users can preview where they want to go and see inside places with Business Photos to decide on a table or see if it's better at the  The Google Maps App also provides voice-guided, turn-by-turn navigation, live traffic conditions to avoid the jams and information for more than one million public transit stops.
The Google blog  stated:"The world around us is constantly changing and, thanks to feedback from you, we make tens of thousands of daily updates to keep Google Maps accurate and comprehensive. Here's a helpful hint for the new app: if you see something off, simply shake your phone to send us feedback."
Google has also released Google Maps SDK for iOS, and a simple URL scheme to help developers use Google Maps when building their apps. The new Google Maps app is available for the iPhone and iPod Touch (4th gen) iOS 5.1 and higher, in more than 40 countries and 29 languages, including Chinese, Dutch, English, French, German, Italian, Japanese and Spanish.
The Google Maps App can be downloaded from the Apple App store.
Pin It